Karon restaurants, gastronomy, dining guide, Thailand
Restaurants in Karon are original and pleasant. We have selected the best for you.
In order that you quickly get your bearings on Phuket Island, we have selected for you some of the best restaurants and bars, the most popular ones that attract both expatriates and travelers, in the different regions of the island.
Karon Restaurant
Two Chefs Restaurant
Two Chefs Karon serves international food, modern Thai food, fresh seafood and Mexican specialties.
The restaurant succeeded in standing out from competition by proposing a large menu and choosing quality products. All of this is brightened up with successful theme evenings.
Opposite to Centara Karon Resort.
Prices from 185 to 500 B. Open every day from 08.00am to 24.00pm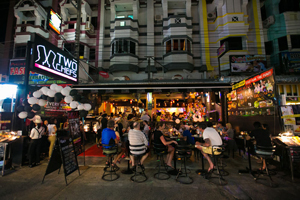 Karon Café Restaurant
The main characteristic of Karon Cafe is that meat is directly imported from Australia and defrosted on-site. Accompanied with soup, lettuce, and Australian red wine, everything is there to enjoy good meat. Thai menu available. Opposite to Centara Karon Resort. Same area as Two Chefs
Prices from 125 to 300 Baht. Open from 06.00am to 24.00pm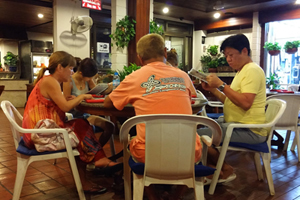 Las Margaritas Restaurant
Las Margaritas is a very pleasant and affordable Mexican-style restaurant. It offers Mexican, Thai, Creole and Indian food. Accompanied with a glass of good red wine, a meal at Las Margaritas will relax and entertain you in a nice atmosphere and with friendly staff.

Located about 50 meters from Two Chefs Restaurant, to the left.
Prices from 150 to 300 B. Open from 14.00pm to 23.30pm