Departure for an adventure day in Khao Lak Jungle, leave Phuket Island and continue toward Birmania. Upon arrival, you will cross a well-preserved rainforest by bamboo raft.
After exploring the jungle along the wild river, you will arrive to Wang Khieng Koo Waterfall and enjoy swimming or relaxing.
This rewarding and absolutely unique experience will bring you back in time with its natural habitat covered with exotic and lush vegetation.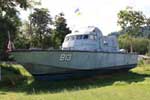 Lunch at Khao Lak at a local restaurant, on the edge of the Andaman Sea. After lunch, enjoy swimming and relaxing, then depart for an elephant trek.
This trekking in the surrounding jungle will allow you to discover the flora and fauna of this splendid ecosystem. Then let yourself be enchanted by a snake show and admire snake charmers dancing with dangerous and fascinating cobras.
Back to reality and visit of the Royal Navy Ship to give you an overview of what happened during the Tsunami in December 2004. Free time and transfer back to your hotel in the afternoon.
Perfect for nature lovers and trekking enthusiasts.
Tour description:

Pick up at your hotel
Stop at a pineapple plantation and coffee break on the way
Elephant trekking (30-45minutes)
Impressive snake show, the snake charmer easily tames dangerous royal cobras with incredible freshness.
Depart for the visit of the Royal Navy Ship, stricken by the tsunami in 2004 and located several km away in the lands.
Lunch at a local restaurant, at the edge of the sea. There will also be time for swimming.
Discover and explore the rainforest by bamboo craft
Swimming or relaxing at Wang Kieng Koo Waterfall

Price per person

Adult

3,500 Baht

Child

1,800 Baht

Included: Minibus with driver, guide, National Park, Bamboo Rafting, Snake Show, lunch, entrances and soft drinks.


T.A.T. (Tourism Authority Thailand) # 34/01616

Member of ATTA (Association of travel agent in Thailand)


Membre No 02855

The travel association in Thailand